Using newsletters you can inform your clients about new goods, promo actions and events. In experienced hands this marketing tool is very powerful.
To observe the CAN-SPAM Act you are to satisfy the following requirements:
The recipient must be informed that he is subscribed to the newsletter
The recipient must have an option to unsubscribe
The email newsletter address must be valid
The newsletter authors must write the return address and their contact information
There is a sample of usual newsletter campaign (using scheduler mailbox & database):
60 days after purchase, remind customers they need to order refills
Offer buyers of Product A a special price for complementary Product B
Give special "Upgrade Prices" to existing owners when you release a new model
Joint venture with another business for a 50% profit split, and e-mail product recommendations to owners of your related products
Invite subscribers from certain cities or states to attend special events with you
Give certain customers "first chance to buy" limited inventory or stock


Of course, all of your recipients MUST to subscribe/or give rights to receive those offers from you.
Inevitable misfortune:
As a rule one day you start receiving spam to your newsletter mailbox. Then your employee in charge has to process more and more emails in the newsletter lists, and the error probability increases. But using Advanced Email Parser you will avoid this problem!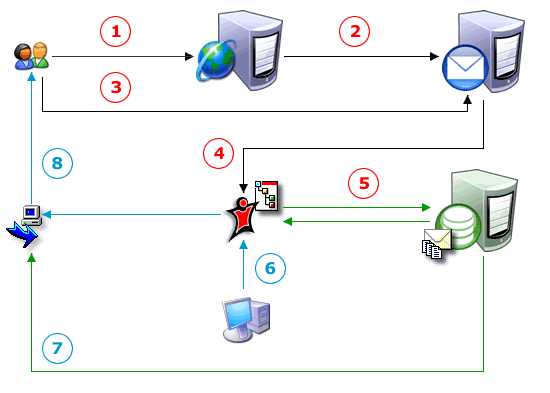 (1)

Filling the newsletter "Subscribe" form
Filling the newsletter "Unsubscribe" form

(2)

Sending an email request to subscribe to the newsletter
Sending an email request to unsubscribe from the newsletter

(3)

Creating an email with the script [1]

(4)

Email processing with the action type definition (subscribe/unsubscribe)
Processing emails with mailing delivery errors (excluding not valid emails from the newsletter list)
Checking the email address on validity
Sending a subscription confirmation email to the recepient
Checking the newsletter delivery to the email address [2]

(5)

Searching for the recipient in the database
Inserting the recipient's data to the database

(6)

Marketing. Creating a newsletter using any email client [3]
Adding email headers and a signature with the contact information

(7)

Getting the subscribers' lists from the database
Creating personified emails for every subscriber

(8)

Sending the newsletter
---
1. The script is executed at the web server and is multi-purpose.
2. This algorithm is most efficient when AEP is installed at the same computer (or in the same sub-network) with the mailing server where the newsletter is sent to.
3. The marketing email is based on the template.